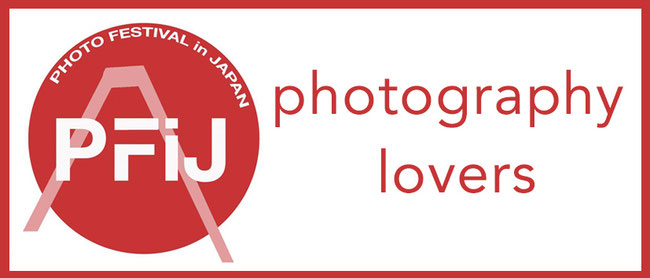 Cultural Project - Projeto Cultural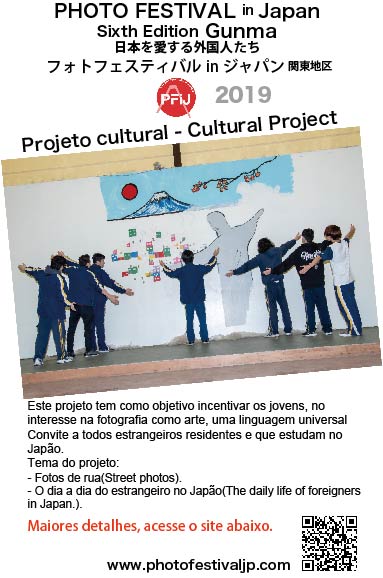 A partir desta Sexta Edição(2019) o Photo Festival in Japan criou um Projeto Cultural que tem por objetivo fomentar o interesse dos jovens no mundo da fotografia como linguagem universal.
Será criado um espaço especial na exposição onde serão expostos trabalhos dos estudantes  de escolas dirigidas aos estudantes estrangeiros radicados aqui no Japão.
Tema.
- Fotos de rua.
- O dia a dia do estrangeiro no Japão.
Equipamento.
As fotos poderão ser captadas por qualquer tipo de câmera(SLRD, SLD, Câmeras Compactas ou Smart Phones).
Resolução.
A foto deverá ter uma resolução mínima de  = 2.000px x 3.000px.
Ampliação.
A foto a ser exposta será ampliada no tamanho A4.
Quantidade de fotos.
Cada participante poderá enviar até 5 fotos, dos quais serão selecionados até duas fotos para serem ampliados e expostos.
Custos.
Os participantes pagarão somente o valor de 1.000 ienes/foto, correspondente a ampliação..
Envio das fotos.
As fotos para avaliação poderão ser enviadas em baixa resolução para por Messenger (Msato Photos).
As fotos aprovadas serão informados também por Messenger e deverão ser enviadas em alta resolução(2.000px x 3.000px).
Qualquer dúvida entrar em conto pelo formulário abaixo.
As of this Sixth Edition (2019) the Photo Festival in Japan has created a Cultural Project that aims to foster the interest of young people in the world of photography as a universal language.
A special space will be created at the exhibition where students from schools will be exhibited for foreign students residing here in Japan.
Theme.
- Street photos.
- The daily life of the foreigner in Japan.
Equipment.
The photos can be captured by any type of camera (SLRD, SLD, Compact Cameras or Smart Phones).
Resolution.
The photo should have a minimum resolution of = 2,000px x 3,000px.
Enlargement.
The photo to be displayed will be enlarged to A4 size.Number of photos.
Each participant can send up to 5 photos, of which one or two will be selected to be enlarged and exposed.
Costs.
Participants will only pay 1,000 yen / photo, corresponding to enlargement.
Sending of photos.
Photos for review may be sent in low resolution to by Messenger (Msato Photos).
The approved photos will also be informed by Messenger and must be sent in high resolution (2,000px x 3,000px).
Any doubts please contact us by the form below.
How to send the photos - Como enviar as fotos
- Entrar no link; gigafile 
- Selecionar o período que seu arquivo estará disponível para descarregar(clicar em 21 dias).
- Arrastar e soltar o seu arquivo no espaço indicado, sugerimos enviar um arquivo por vez.
- Informar no espaço "memo"; Nome completo, nome da escola, título da foto.
- Inserir o E-mail; focusjp55@gmail.com.
- Clicar em enviar.
- Enter the link; gigafile
- Select the period that your file will be available to download (click on 21 days).
- Drag and drop your file in the space indicated, we suggest uploading one file at a time.
- Inform in the space "memo"; Full name, school name, photo title.
- Insert the E-mail; focusjp55@gmail.com.
- Click submit.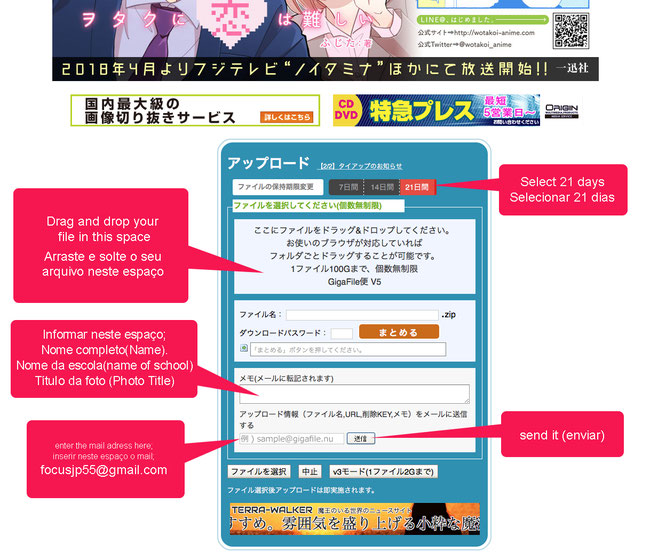 Faça a sua Inscrição Aqui! - Fale conosco!
Categoria : Projeto Cultural