Photo Festival in Japan is a non-profit institution created in 2015.
The main purpose is to provide a space for foreign photography lovers living in Japan to share their work, forming an international community of photographers.
Themes adopted at the exhibition;
- The beautiful landscapes offered by the privileged nature, with well defined seasons of the year.
- The thousands of festivals that take place all year round, especially in the summer.
- Street photos captured in Japan.
O Photo Festival in Japan é uma instituição sem fins lucrativos criada em 2015.
O objetivo principal é disponibilizar um espaço aos estrangeiros, amantes da fotografia residentes no Japão, para compartilhar seus trabalhos, formando uma comunidade internacional de fotógrafos.
Temas adotados na exposição:
- As belas paisagens oferecidas pela natureza privilegiada, com as estações do ano bem definidas.
- Os milhares de festivais que acontecem o ano todo, principalmente no verão.
- Fotos de rua capturados no Japão.
---
______________________________________________________________________________________________
Sixth Edition - 2019
Gunma 
A Sexta Edição do Photo Festival in Japan  serà realizada na cidade de Oizumi, na província de Gunma, nos dias 12 e 13 de outubro de 2019.
Para maiores informações, clicar sobre a foto abaixo.
The Sixth Edition of the Photo Festival in Japan will be held in Oizumi City, Gunma Prefecture, on October 12 and 13, 2019.
For more information, click on the photo below.
PROJETO CULTURAL - CULTURAL PROJECT
Maiores detalhes click na foto - More details click on the photo
Nesta  Sexta Edição(2019) o Photo Festival in Japan criou o Projeto Cultural que tem por objetivo fomentar o interesse dos jovens no mundo da fotografia como linguagem universal.
Será preparado um espaço especial na exposição onde serão expostos trabalhos dos estudantes  de escolas dirigidas aos estudantes estrangeiros radicados aqui no Japão.
Maiores detalhes; clicar na foto acima
In this Sixth Edition (2019) the Photo Festival in Japan created the Cultural Project which aims to foster young people's interest in the world of photography as a universal language.
A special space will be prepared at the exhibition where works by students from schools aimed at foreign students living here in Japan will be exhibited.
More details; click on the photo above
______________________________________________________________________________________________
Clique na foto para visualizar detalhes do evento da Quinta Edição.
Click on the photo to view details of the Fifth Edition event.
---
---
Calendars.
Photo Festival in Japan annually publishes its own calendar with a print run of 3,500 copies.
The calendars consist of 28 pages, with one photo per month.
The photos used are selected from those exhibited in the previous year, chosen by voting during the exhibition.
The calendars are sponsored by 10 private companies, and receive the following distribution;
200 calendars / patronage.
30 calendars / display with photo on the calendar.
5 calendars / participating photographer.
The other calendars receive a targeted distribution, defined by the organizing committee.
Calendários.
O Photo Festival in Japan edita anualmente um calendário próprio, com uma tiragem de 3.500 exemplares.
Os calendários são constituídos de 28 páginas, com uma foto por mês.
As fotos utilizadas são selecionadas das expostas no ano anterior, escolhidas por votação durante a realização da exposição.
Os calendários são patrocinados por 10 empresas privadas, e recebem a seguinte distribuição;
200 calendários/patrocínio.
30 calendários/expositor com foto no calendário.
5 calendários / fotógrafo participante.
Os demais calendários recebem uma distribuição direcionada, definida pela comissão organizadora.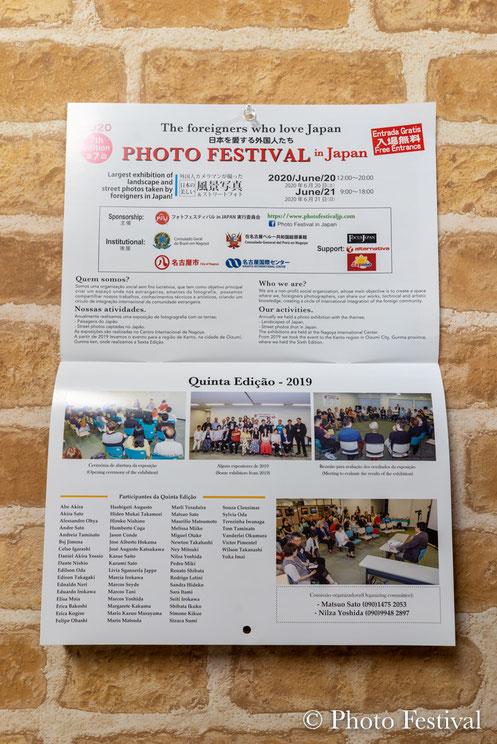 ______________________________________________________________________________________________
Contact us - Fale conosco
---
Matsuo Sato (090)1475-2053.
Nilza Yoshida (090)9948-2897.